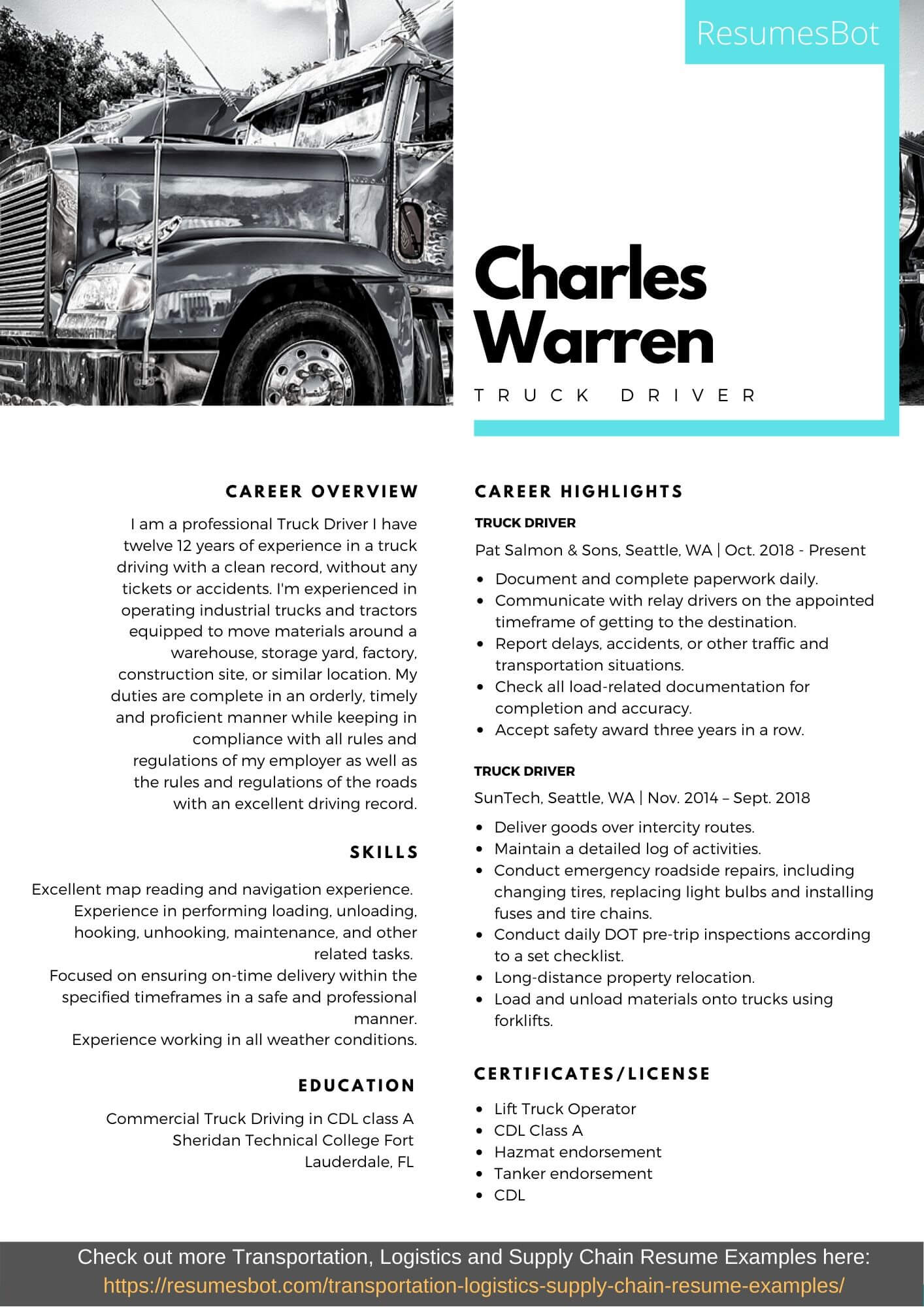 TRUCK DRIVER RESUME TEMPLATE (TEXT FORMAT)
CAREER OVERVIEW
I am a professional Truck Driver I have twelve 12 years of experience in a truck driving with a clean record, without any tickets or accidents. I'm experienced in operating industrial trucks and tractors equipped to move materials around a warehouse, storage yard, factory, construction site, or similar location. My duties are complete in an orderly, timely and proficient manner while keeping in compliance with all rules and regulations of my employer as well as the rules and regulations of the roads with an excellent driving record.
EDUCATION
Commercial Truck Driving in CDL class A
Sheridan Technical College Fort Lauderdale, FL
SKILLS
Excellent map reading and navigation experience.
Experience in performing loading, unloading, hooking, unhooking, maintenance, and other related tasks.
Focused on ensuring on-time delivery within the specified timeframes in a safe and professional manner.
Experience working in all weather conditions.
CAREER HIGHLIGHTS
TRUCK DRIVER
Pat Salmon & Sons, Seattle, WA
Oct. 2018 – Present
Document and complete paperwork daily.
Communicate with relay drivers on the appointed timeframe of getting to the destination.
Report delays, accidents, or other traffic and transportation situations.
Check all load-related documentation for completion and accuracy.
Accept safety award three years in a row.
TRUCK DRIVER
SunTech, Seattle, WA

Nov. 2014 – Sept. 2018
Deliver goods over intercity routes.
Maintain a detailed log of activities.
Conduct emergency roadside repairs, including changing tires, replacing light bulbs and installing fuses and tire chains.
Conduct daily DOT pre-trip inspections according to a set checklist.
Long-distance property relocation.
Load and unload materials onto trucks using forklifts.
CERTIFICATES/LICENSE
Lift Truck Operator
CDL Class A
Hazmat endorsement
Tanker endorsement
CDL
Average Salary for Truck Driver Job
Truck Driver
Salaries
National Average
| | | |
| --- | --- | --- |
| Base Salary | $40k – $82k | |
| Bonus | $275 – $5k | |
| Profit Sharing | $150 – $6k | |
| Commission | $0 – $13k | |
| Total Pay | $35k – $70k | |
***Data are taken from payscale.com
Good Skills to Include on Truck Driver Resume
Experience in Driving long haul, various trucks, loaders, tractors, walking floors, low bed, oversize loads and various types of forklift.
Trained in safe driving technique.
Knowledge of state roads and highways.
Knowledge of electric and manual pallet jack operation.
Experience with Box Vans and Flatbed trucks.
Resume Action Words for Truck Driver Resume
Transported
Drived
Operated
Inspected
Managed
Selected
Used
Provided
Delivered
Supported
Loaded
Verified
Maintained
Analyzed
Reported
Common Certificates for Truck Driver Resume
Class A CDL
Forklift
Inventory
Maintenance
Management
MS Office
Training
Welding
To be 100% prepared for getting a new job check our Truck Driver Cover Letter Example
How useful was this post?
Click on a star to rate it!
Average rating / 5. Vote count:
Other Samples from this Industry: