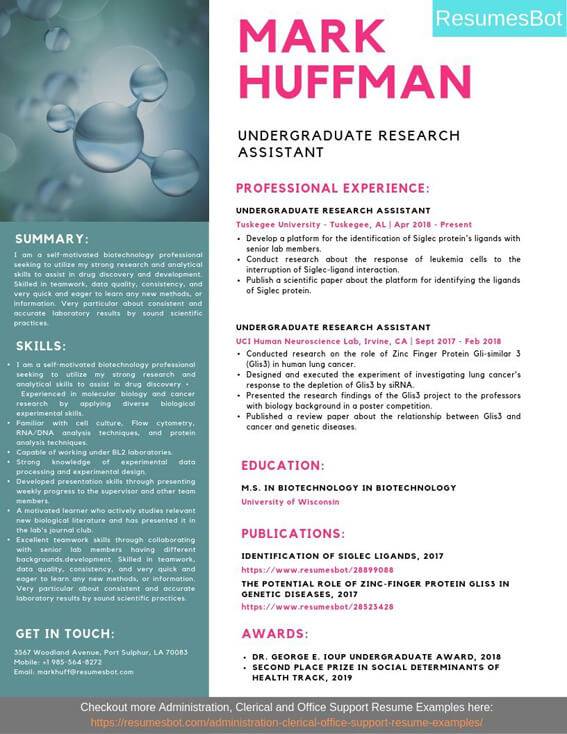 UNDERGRADUATE RESEARCH ASSISTANT RESUME TEMPLATE (TEXT FORMAT)
SUMMARY
I am a self-motivated biotechnology professional seeking to utilize my strong research and analytical skills to assist in drug discovery and development. Skilled in teamwork, data quality, consistency, and very quick and eager to learn any new methods, or information. Very particular about consistent and accurate laboratory results by sound scientific practices.
EDUCATION
M.S. in Biotechnology in Biotechnology
University of Wisconsin
SKILLS
Experienced in molecular biology and cancer research by applying diverse biological experimental skills.
Familiar with cell culture, Flow cytometry, RNA/DNA analysis techniques, and protein analysis techniques.
Capable of working under BL2 laboratories.
Strong knowledge of experimental data processing and experimental design.
Developed presentation skills through presenting weekly progress to the supervisor and other team members.
A motivated learner who actively studies relevant new biological literature and has presented it in the lab's journal club.
Excellent teamwork skills through collaborating with senior lab members having different backgrounds.
PROFESSIONAL EXPERIENCE
UNDERGRADUATE RESEARCH ASSISTANT
Tuskegee University – Tuskegee, AL
Apr 2018 – Present
Develop a platform for the identification of Siglec protein's ligands with senior lab members.
Conduct research about the response of leukemia cells to the interruption of Siglec-ligand interaction.
Publish a scientific paper about the platform for identifying the ligands of Siglec protein.
UNDERGRADUATE RESEARCH ASSISTANT
UCI Human Neuroscience Lab, Irvine, CA
Sept 2017 – Feb 2018
Conducted research on the role of Zinc Finger Protein Gli-similar 3 (Glis3) in human lung cancer.
Designed and executed the experiment of investigating lung cancer's response to the depletion of Glis3 by siRNA.
Presented the research findings of the Glis3 project to the professors with biology background in a poster competition.
Published a review paper about the relationship between Glis3 and cancer and genetic diseases.
PUBLICATIONS
Identification of Siglec Ligands, 2017
The Potential Role of Zinc-Finger Protein Glis3 in Genetic Diseases, 2017
AWARDS
Dr. George E. Ioup Undergraduate Award, 2018
Second Place Prize in Social Determinants of Health Track, 2019
Average Salary for Undergraduate Research Assistant Job
Undergraduate Research Assistant
Salaries
National Average
| | | |
| --- | --- | --- |
| Base Salary | $20k – $45k | |
| Bonus | $206 – $5k | |
| Total Pay | $21k – $47k | |
***Data are taken from payscale.com
Good Skills to Include on Undergraduate Research Assistant Resume
Knowlege in software and methods used in a laboratory setting.
Proficiency of analyzing data, and plotting results using software programs.
Practical experience in a laboratory and research environment.
Proven ability to learn new experimental methods, and work independently or collaboratively with other lab members, with accuracy and attention to detail.
Resume Action Words for Undergraduate Research Assistant
Coordinated
Diagnosed
Examined
Critiqued
Identified
Investigated
Extracted
Surveyed
Awarded
Summarized
Clarified
Reviewed
Researched
Evaluated
Systemized
Common Certificates for Undergraduate Research Assistant Resume
UIS Undergraduate Research Certificate
Certificate in Undergraduate Research in Human Health Sciences
How useful was this post?
Click on a star to rate it!
Average rating / 5. Vote count:
Other Samples from this Industry: