A job interview is not only about feeling smart and marketable — a good mind is a letter of recommendation, while a good dress is a card of invitation. Having the right qualifications is key to getting in the company's door, but looking faultless and likable is what gives potential new hires a winning edge. An inappropriately dressed candidate makes a bad showing and loses the chance to get hired.
Clothes and style are the deciding factors between two similar candidates for 65% of hiring managers. Appearance expressed by the way you dress and walk through the door manifests the personality and signals about respect (or none of it) for the new environment and social standing, determining 55% of first impressions on recruiters.
Let's find out all the ins and outs of choosing appropriate interview clothes and shoes, highlight the combinations of a basic go-to interview outfit, and define subtle aspects of things not to wear to an interview both for men and women.
3 Basic Principles of Job Interview Style
Years ago the wrong color of nail polish and brighter makeup than nude one for women or loud tie patterns for men could be a red flag for getting a job. But times have changed. The business culture leaves conservative formal male and female outfits in the past, giving way to more comfortable business casual interview attire. Though the interview dress code is not as strict as years ago, there are some basic principles to reckon with on how to dress for an interview. Virtual meetings won't escape any of the following rules.
#1. Dress Strategically
Professional attire for women or men dispensed with business accents depends not on your mood but reckons with the role and industry you are eager to enter. Your interview wardrobe offers an opportunity to convey the message that you can become a part of the environment. A recruiter is more likely to respond positively to an individual who mirrors the existing team.
Interview Outfit for Different Industries
| | | | |
| --- | --- | --- | --- |
| Business Professional (Conservative) Attire | Business Casual Attire | Casual Outfit | Creative (Fashionable) Attire |
| High-level Governmental Institutions | Government / State /Federal Agencies | Building / Construction | Music Recording / Production |
| Executive Roles | Real Estate / Brokers | Electricians | Public Relations |
| Corporations | Sales / Retail | Repair | Fashion |
| Finance / Banking | Small Businesses | Landscaping | Traveling Agencies |
| Accounting Firms | Health / Pharmaceutical | Manual Labor | Graphic Designers |
| Law Firms | Tech / Engineering | Farming | Entertainment |
| Insurance | Education | Plumbing | Media |
Make your research about the company's culture to choose appropriate interview clothes. Find their website with the relevant images of the workforce to understand which job interview outfits and styles are appropriate. If you have doubts and need details, reveal them in a quick call.
To let a hiring manager see you as a team member, dress in line with the rest of the office. If blazers are more common than suits, then it's a good idea to choose a blazer for an interview instead of a jacket. A working tip is to dress a little bit smarter after assessing the right tone of the hiring company.
#2. Feel Comfortable
Try to remember numerous scenes from movies when serious negotiations are taking place. As the situation goes on, the suit jackets hit the chairs, the ties get loosened, and the sleeve buttons get unbuttoned. But you are to be comfortable and organized to answer difficult questions all the way wearing either casual or professional clothes for an interview.
Dressed in improper clothes you fail to be organized, confident, and focused on the most important matters. Anything overly warm, tight, itchy gets on your nerves adding unnecessary stress on the big day. If you're not used to new shoes or high heels, you'll face a sore spot on your feet.
Choose good old well-fitting clothes according to the season and favor similar clothing to items you already own and wear instead of tight pants that might dig in. Opt for natural and soft clothing material instead of itchy knits that might be painful for your neck. Wearing a skin-tight outfit is not obligatory as your favorite smart wide-leg pants can be perfectly comfortable.
#3. Stick to Neutral Colors
Wearing too loud clothes and accessories in gaudy colors will be a distraction, triggering negative thoughts of your candidacy. Even a red tie puts you at the risk of being seen as dominant, overly assertive, and arrogant. Yellow color, as well as orange, doesn't allow to take you seriously. Be careful with green, which signals suspicion and sends out messages of deceits. Purple will be good for evening going out but not for work.
No one should notice your outfit if you prepare for a business role in a smart office. Think of discreet navy, black, gray, or brown as the best color to wear to an interview. Blue is also safe for an interview, demonstrating your confidence, reliability, and honesty. Soft neutral tones shift the focus from the way you dressed to your accomplishments. A classic gray suit with a tight tie or an old black pencil skirt and button-up blouse combo is not the best solution for a creative role.
A wiggle room in your dress should emphasize creativity, which is typical and welcomed for such roles. But go easy on mixing up the look with more color and print. Sense of proportion and taste should keep you safe from bells and whistles in your look, makeup, and nail polishing.
The Best Interview Outfits for Women
What should a female wear to a job interview to get a job? The choice of women's interview outfit goes wider than the classic pencil skirt, a jacket, and button-up interview blouse combo. Still, the limits depend on the type of business attire required by the industry. A dress with a blazer for an interview, neatly styled hair, conservative makeup, and nail polish will add more points.
Women's Business Professional Interview Attire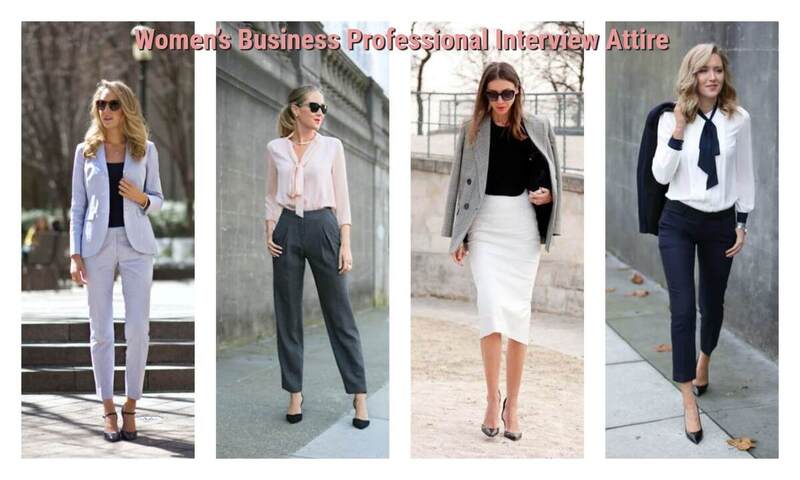 Everything should be clean, well pressed, and not show wear. Carefully inspect new clothes for tags and all clothes for dangling threads not to spoil your formal interview attire. Avoid unusual colors of clothes.
Suit
A conservative two-piece suit in dark solid colors (navy, black, brown, gray, hunter green, dark burgundy) is axiomatic for a business professional women interview outfit. Three-piece suits with vests are not recommended.
The best fabric for business professional suits is all-seasoned wool or lightweight wool blend. Suit buttons should be matching, fabric-covered, or made of dark resin.
Skirt
Choose a high-waisted knee-length pencil skirt as an interview skirt instead of wearing a short, tight, clingy cutout or those with a high slit. Skin or darker color of hosiery is a must with skirts at all times.
Pants
Tailor pants according to your height and the heels you are planning to wear. The middle point line of your shoes or line past the ankles is where the pant cuff should be.
Blouse
A white, off-white, or neutral-colored blouse for an interview with a conservative neckline provides an ideal contrast with a dark color of the suit.
Jewelry
Restrain yourself in jewelry and accessories. One set of simple earrings is enough to have a professional look.
Business Casual Women Interview Outfit
Let's find out what to wear to interview women in a less formal environment. Less strict rules allow mixing up lighter colored wool fabric with a cotton blend, pure cotton, or high sheen silk. But neutral patterned or solid-colored skirts or pants still remain the best interview clothes for a woman. Khakis, wool flannel, linen slacks, and dark dresses combined with neutral hosier would be appropriate to vary a business casual look with. Scarves are optional for interview outfits.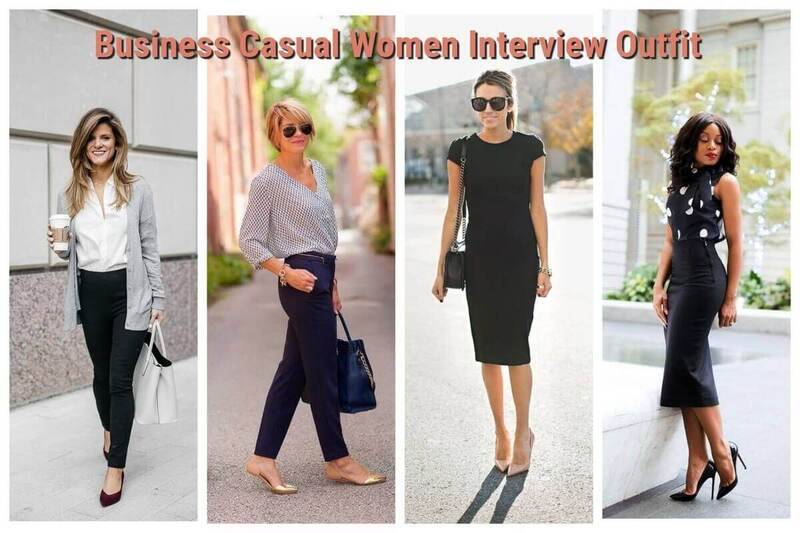 Jacket / Blazer
At this level, jackets and blazers are optional but preferred. Choose the blazer that sits nicely on your shoulder without hanging past. The sleeves should end right at your wrist, those falling down to your wrists shouldn't bother you. Buttons can be metal gilt, white, or clear plastic.
Dress
Sheath dress forms a fitting silhouette and modest look. Wearing a black interview dress that goes down to the knees and is not too tight works great for all types of offices, from casual to conservative.
Twin Sets Knitwear
Twinsets are among the classics of women's business fashion. They are unparalleled in terms of combination options. Cashmere sweaters or cardigan twin sets can make you feel chic and fabulous and win over the interviewer.
Shirt
Crisp button-down shirts provide the most classic look, being an ideal option for formal and creative job interviews during the hot July days. Some button-downs can add a mature look, but fitted cutouts with the right proportions will keep your look younger and fresh.
Accessories
Belt, scarves, or watches will add a polished touch to the casual outfit. A matching necklace makes your interview look more elegant.
The Perfect Interview Outfits for Men
Thinking over what to wear to an interview men often make a common mistake, tending to prefer street clothing. A casual outfit is not suitable for your first visit to a prospective employer and has nothing in common with the bad call to wear jeans to an interview.
Formal Business Attire for Men Interview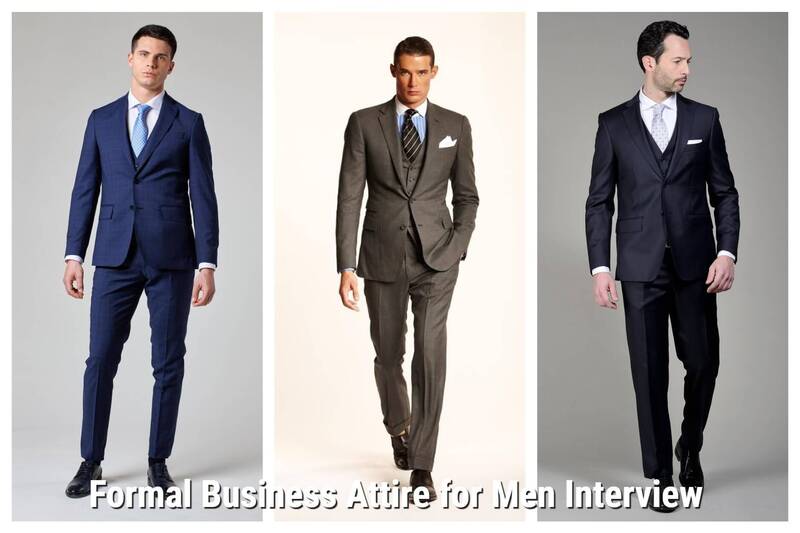 Err on the conservative side with a jacket free of patterns to match pants. All pieces of formal interview attire for men should be crisply pressed and fit well. Avoid letting expensive clothing speak louder than your background, capabilities, and skills.
Suit
A gabardine, light wool, or rayon conservative double-breasted suit works the best during a job interview. Fine and smooth worsted wool is a better choice for hot seasons and tends to have a clean professional look. Though the best color is dark solid black, charcoal gray, or navy, subtle pinstripes are acceptable. Either a blue or gray color suit is suitable to appear for an interview.
Shirt
Wear a neutral color, plain white or beige. Choose a button-down tailored-fit long-sleeved shirt with a spread or point collar, not. Sharp collar points and a smooth front without wrinkles are a must for business professional attire.
Socks
Business formal typically doesn't allow for colorful socks: instead, most men wear black or navy socks. Dark socks should match the color of a pant leg. Observe a mid-calf length so no skin is visible when you sit down.
Tie
A conservative silk tie that matches the colors in the suit will be appropriate for a formal business setting. Strict rules dictate solid colors, stripes, or small patterns. Let the tie reach beltline, it should be long enough with the tip touching the waist and without showing the shirt in between, even when moving. Try to tie a centered, symmetrical Windsor knot, leaving a small dimple in the tie below it.
Belt
Avoid wearing a bad belt just to fill the loops. Think carefully about whether your belt adds to the professional outfit or takes away from it. Choose a plain unnoticeable black leather belt with a small metal buckle.
Accessories
There's a limited choice of accessories. A conservative watch and a ring can only be accepted. Put a white pocket square, crisply folded in the jacket breast pocket to accent your personality. The more formal you'd like for your ensemble to be, the plainer it should be.
Casual Interview Outfits Men Would Prefer
There's a limited choice of accessories. A conservative watch and a ring can only be accepted. Put a white pocket square, crisply folded in the jacket breast pocket to accent your personality. The more formal you'd like for your ensemble to be, the plainer it should be.
What is business casual for men interview attire? Business casual is a safe, less-structured, middle-of-the-road interpretation of formal day-to-day business attire. Business casual interview male formal suit brings in not many alternative ways for outfits, but still, there are some: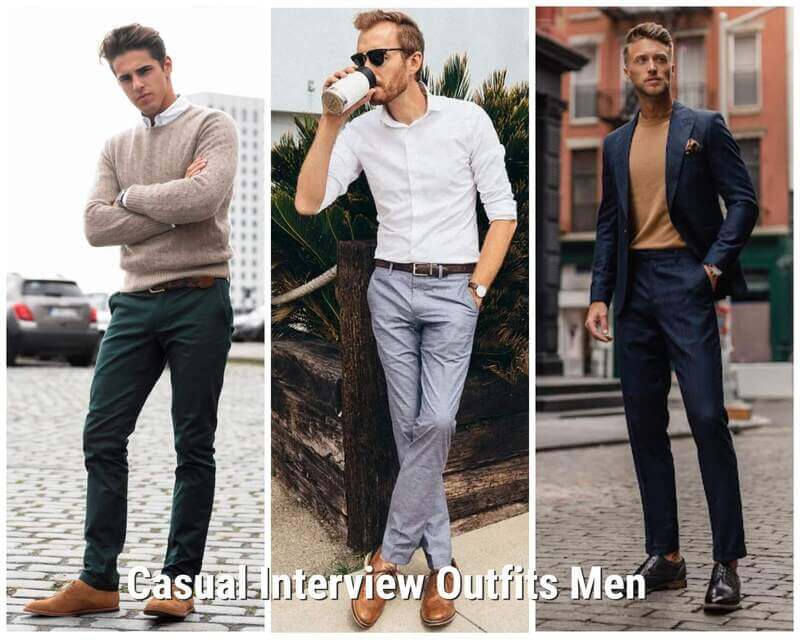 Jacket
Typically, most job candidates are supposed to wear a one-breasted jacket for casual interview attire, which should be neither stuffy nor lax. The liberties in outerwear include blazers, sport coats, and sweaters. Even a flattering cut of classic tweed suit with its rustic finish and draping can look casual but it would be great for winter.
Pants
Whether you choose four-pocket pants, chinos, or khakis, the main rule is to dress them neatly pressed. The main rule for corduroy, gabardine, or cotton pants is a solid color with minimal texturing.
Shirt
The choice of collared shirts is similar to the formal business style. Light colors such as white or pastels are preferable, but some others with light patterns can be accepted at this point too. Avoid deep hues or bright colors.
Tie
Ties are not necessary for business casual, but if you doubt, you can wear one of them, but never without a blazer. Choose any color or pattern that goes with the shirt, jacket, and slacks, that is not too bright. Leave ties with noisy patterns or a single printed graphic for family events.
Socks
Business casual allows men to show some more personality through a colorful or patterned pair of socks. Pair your shoes with mid-calf-length dress socks that match the color of your pants.
Belt
For a business casual look, you can get away with no belt as long as your shirt and pants fit properly. If you need a belt to keep your pants from falling, it may be time to try a new size. A belt provides the extra polish so it's up to you to decide if your dressing needs it. The lighter the color of the leather, the more casual a belt is going to be overall.
Accessories & Jewelry
The right business casual accessories can help you dress up or dress down your outfits. A business casual outfit gives more leeway in choosing a wristwatch. You can wear cufflinks as well. They create a slightly more formal air, but you can tone them down by selecting a unique cufflink design.
What not to Wear to an Interview
There are things never considered appropriate for interviews. For instance, being way too overdressed for business professional women interview outfits can be as bad as being underdressed. The same is true for accessories and perfumes. It's better to avoid perfume to remove fragrance allergies chance in a small interview room. Jewelry and accessories can spoil the required formal look with metal details, chains or cuffs, clanging together.
Take into consideration that clothes of the same color look depressing and dull. Though sticking to pants or skirt tone while choosing the color of tights or socks is a good idea, the color of your bag should be different from shoes. Here are more clothing don'ts for business casual interview attire for women and don'ts in dress for interview male outfits:
Off-Limits in Formal and Casual Interview Outfits for Women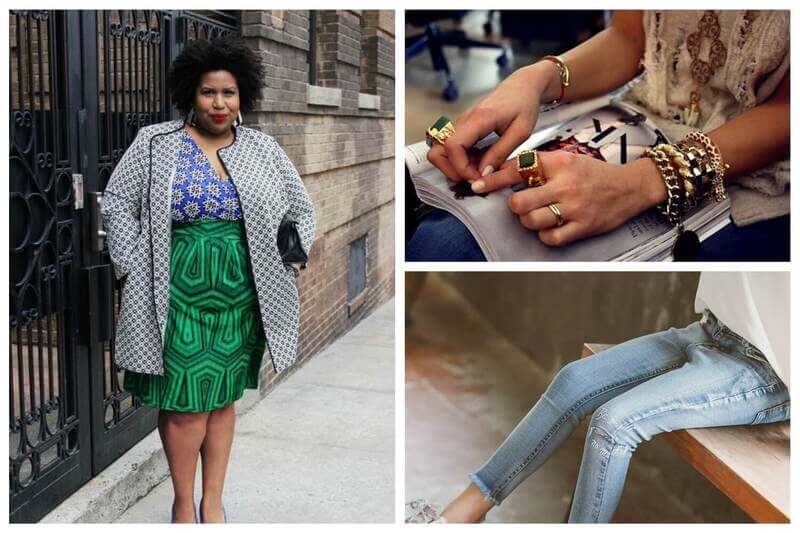 Too tight or oversize wear;
Faded clothing;
Jeans and tight pants;
Short and too long skirts;
Loud clothing patterns and colors;
Low cut, sheer, and sleeveless blouses, shirts, and tops;
Transparent or see-through garments;
Visible underwear details;
Visible body piercing or tattoos;
Long, dangling, or oversize earrings;
More than one piece of jewelry;
Too long scarves;
Oversize bags and large purses;
Open-toe shoes, sandals, or stiletto heels.
Bounds in Men's Business Professional Interview Attire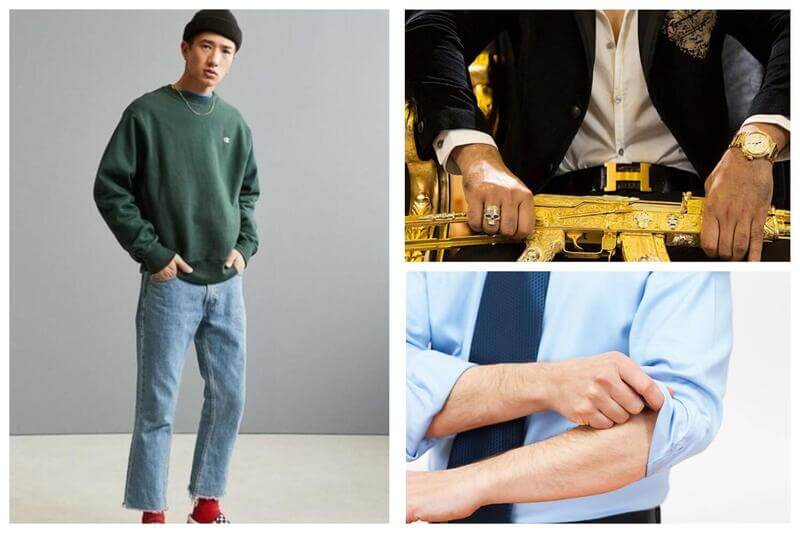 Badly fitted suit and missing buttons;
Worn clothing or lose threads;
Electric bright yellow, or a flaming red ties or comic strips;
Neon colors or flashy prints on interview shirts;
A short-sleeve shirt with a suit;
Different colors and materials of pants and jacket;
Extensive, noisy patterns and stripes;
T-shirts and tank tops;
Sweatshirts and jeans;
Frayed or rolled up cuffs;
Piercing, earrings, ear сuffs, or clips;
Excessive wristwatch, chunky metal bands, or bejeweled detailing;
Trendy lapels or buttons;
White socks;
Tennis shoes, sandals, athletic shoes, and hiking boots;
Backpacks and floppy bags.
What Shoes to Wear to an Interview
If you wonder how to choose the appropriate shoes for an interview, the devil is in the details. Showing up with scuffed or open-toe shoes gives the wrong impression that a candidate doesn't care or take the interview as seriously as they should. The best shoes for interviews are always simple, clean, and polished.
Female Interview Shoes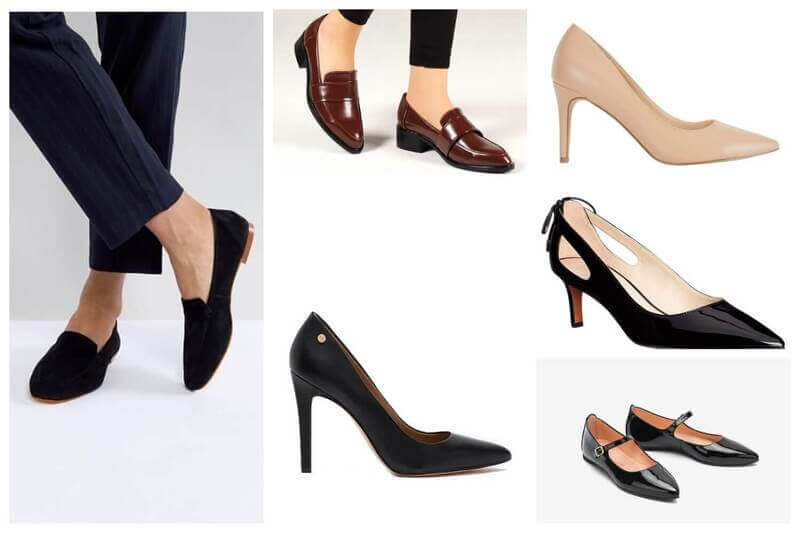 Opt for conservative women's interview shoes with heels no higher than two inches. Too high heels or platforms may remind a stripping show. Flat soles are quite acceptable for business attire shoes. Favor pale, sand, white, cream color for business casual attire or any other darker one to look more conservative. If the dress code allows for casual, make a statement with a snake print.
Male Interview Shoes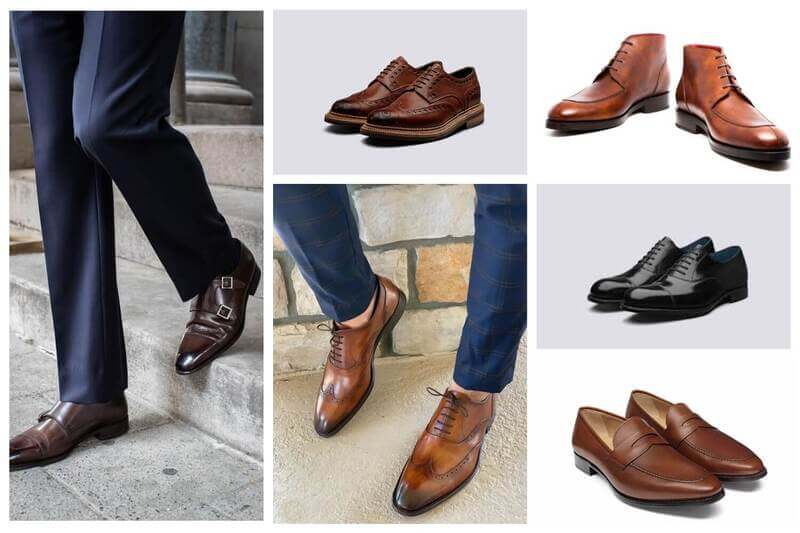 Sleek leather black, brown, or navy dress interview shoes with a closed round or square toe will be the right choice for men. Opt for suitable interview shoes men's classic shoes, lace-up dress shoes, or Oxfords to compliment your outfit. Loafers made of leather or suede can be worn with your business casual outfits. Along with the rule of shoes matching the belt, make sure the chosen color works well with the rest of your interview outfit.
Final Thoughts
The first impressions are always lasting ones. It is essential to keep in mind how to dress appropriately and what not to wear to a job interview either for an in-personal or virtual interview setting. As an active job-seeker, keep in eye recruiting events, career fairs, networking sessions, or any other situations where your professional attire may be formally or informally evaluated. Hew closely to dress code to convey a business tone, most interviewers expect them to be crisp and neat.
Inappropriate attire of a candidate is distracting to major employers. Your appearance should always be neat, as it takes a supporting role in an interview and highly likely weighs in on the hiring decision. This means pressed clothing, polished shoes, and conservative accessories. Do dress for the interview, but always keep the business attire required by a perspective position in mind.
The appropriate attire for you as a candidate being interviewed is typically business professional. Go classic, not trendy, and lean more toward business than casual to signal to the interviewer that you care about the interview and understand the employer and their industry. Whether it is a formal necktie and a conservative suit interview demands or a more stylish casual look, your attire should always be professional and well put together. At last, the words "Yes. You're hired!" are worth the effort.
How useful was this post?
Click on a star to rate it!
Average rating / 5. Vote count:
Other Samples from this Industry: